The Animal Empath
No customer reviews yet. Be the first.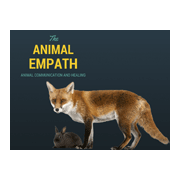 Address
6 Kent House Road, London, SE26 5LB
Telephone
07740 065288
Contact
Send an email to The Animal Empath now >>
About
Animal Empath is an alternative therapies business for pets. Based in London it was created by the owner Aline. As any pet owner will attest, animals have unique personalities. They also think, feel and have opinions about their environment, relationships and needs. Animal communication is a form of telepathy which allows Aline to "speak" to animals in order to pass their thoughts, feelings and emotions directly to their owners and caretakers.
Clients contact Aline for many reasons including to find out why an animal is behaving differently or displaying stress symptoms. They also need to ascertain an animal's thoughts about a change in the family such as a new pet or a new baby. Often they want to discover more about a rescue animal's past or simply to get to know their non-human companions better. Most Animal Empath communication sessions are conducted via email using a photograph of your pet. In certain cases, in-person readings are available.
Aline is trained and mentored by Michelle Childerley, a respected communicator and healer who has been featured on Sky and other television networks for her work with animals. Other relevant experience includes volunteering with horses and her training to receive a Level 2 Reiki certification in order to provide distant and hands-on Reiki healing to animals. Although a communication session can highlight physical and other health concerns and imbalances, it cannot replace qualified veterinary care. Testimonials are available on request.
Find The Animal Empath on these pages:

Location: London
Categories: Alternative Therapies