Leicester Pet Professionals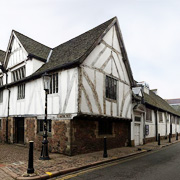 Located firmly in the centre of England, Leicester has a pleasing mixture of old buildings and modern architecture. Most of Leicesterís pet related businesses are spread all over the city in community areas where residents keep a great assortment of pets. Whatever animal, bird or fish you keep or want to own, a Leicester pet professional will be able to help or advise you.
If your dog needs a good shampoo and set, Dial A Dog Wash in Station Road is just the answer. As their name suggests, Leicesterís Clearwater Aquatics are experts on fish keeping; they have a great selection of aquariums, tanks, food and accessories. If exotic pets are more to your taste, you could pay a visit to Rain Forest Reptiles on Blaby Road. They can supply a variety of animals, cages and specialist food.
POPULAR BUSINESSES
2 Mowsley End, Wigston, Leicester, Leicestershire, LE18 3LS
0116 337 3053
Unit B11, Troon Way Business Centre, Humberstone Lane, Leicester, LE4 9HA
07773 570844
97 Station Road, Countesthorpe, Leicester, LE8 5TD
0116 2779877
OTHER BUSINESSES
Clearwater Aquatics

338 Green Lane Road, Leicester, Leicestershire, LE5 4ND
0116 274 3426
Dial A Dog Wash

148 Station Road, Leicester, Leicestershire, LE7 7HF
0116 236 4218
Earl Shilton Veterinary Centre

52 Wood Street, Leicester, Leicestershire, LE9 7ND
01455 847715
Pete's Pets

9-11 Fletcher Mall, Beaumont Leys Shoping Centre, Leicester, Leicestershire, LE4 1DF
0116 236 7576
Pingle Pet Food

The Pingle, Hinckley Road, Leicester, Leicestershire, LE9 8JA
01455 847625
We Are Pets

26 High Street, Leicester, Leicestershire, LE7 1GP
0116 260 3080
Witsend

5 Harold Street, Leicester, Leicestershire, LE2 8AL
0116 244 2455