Rochdale Pet Professionals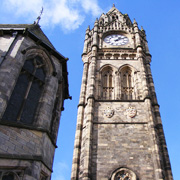 Now a large market town in Lancashire, Rochdale was a major textile manufacturing area during the Industrial Revolution. With two large shopping centres to choose from, Rochdale pet owners are blessed with a great variety of pet businesses that offer almost any pet service. Whilst some of these like The Woodlands Boarding and Breeding Kennels are based on the edge of the town, others like Hamer Pets are more centrally located.
Online retailer Homeward Bound that sells pet ID tags is based in Rochdale, whilst Woofable Walks in Highfield Road can take your dog for some exercise whilst you are at work. Most small pet illnesses can be dealt with at Crown House Vets, and Ashworth Cattery in Carr Wood is a great place to leave your favourite moggie whilst you take a holiday.
POPULAR BUSINESSES
Evans Business Centre, Dane Street, Rochdale, Lancashire, OL12 6XB
08450 942 190
91 Manchester Road, Rochdale, Lancashire, OL11 4JG
0845 5442860
OTHER BUSINESSES
Amber Pet Supplies

299 Edenfield Road, Cutgate Shopping Centre, Rochdale, Lancashire, OL11 5AQ
01706 350378
Aquatic Wholesalers P&L Supplies

15 Red Lane, Rochdale, Lancashire, OL12 9DB
01706 654360
Ashworth Cattery

Carr Wood, Rochdale, Lancashire, OL11 5UT
01706 525657
Crown House Vets

50-54 Milnrow Road, Rochdale, Lancashre, OL16 1UD
01706 646815
Hamer Pets

99 Halifax Road, Rochdale, Lancashire, OL12 9BA
01706 649700
The Do Dig Doggy

30 Dale Street, Rochdale, Lancashire, OL16 4HS
01706 347110
The Woodlands Boarding & Breeding Kennels

1 & 2 The Woodlands, Dyehouse Lane, Rochdale, Lancashire, OL16 2QS
01706 345295
Woofable Walks

24 Highfield Road, Rochdale, Lancashire, OL11 5RZ
01706 775120