Preston Pet Shops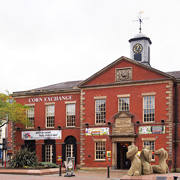 With a population of over 100,000 people, Preston in Lancashire is an important industrial centre in North East England. A high proportion of pet ownership has led to a plethora of pet businesses eager to offer their facilities to these owners.
Kennels, catteries, vets, breeders and general pet stores all feature in the Preston local area and give their clients a huge choice of services. Dogs have a great time at Mutz Cutz Grooming Spa and emerge looking and smelling gorgeous after their various treatments.
The Lizard House Rescue Centre in West Park Avenue performs a useful role by caring for neglected or sick reptiles until a new home can be found for them. Similarly, Springbank Koi & Pond Services can advise clients on caring for their fish as well as recommending the right conditions for their continued good health. Noahs Pet Store in New Market Hall is just one example of a Preston pet shop that provides a superb choice of pet products as well as a great selection of branded pet food mixtures.
FEATURED BUSINESSES

Sells the latest designer pet fashions and accessories for dogs and cats.
Read more about Posh Pawz UK >>
POPULAR BUSINESSES
285 Deepdale Road, Preston, Lancashire, PR1 6LL
01772 804020
OTHER BUSINESSES
Barton Boarding Kennels

Barton Lane, Preston, Lancashire, PR3 5AX
01772 863250
Birdtrader

Clifton Fields, Lytham Road, Preston, Lancashire, PR4 0XG
01646 680733
Mutz Cutz Dog Grooming Spa

97 Station Road, Preston, Lancashire, PR5 6QS
01772 339794
Noahs Pet Store

75 New Market Hall, Preston, Lancashire, PR1 2EL
01772 251360
Oakhill Veterinary Centre

93-97 Conway Drive, Preston, Lancashire, PR2 3ER
01772 718774
Pet Truck

3 Danes Close, Preston, Lancashire, PR4 2YS
01772 466817
Preston Pet Centre

74-76 Blackpool Road, Preston, Lancashire, PR2 6BX
01772 796441
Rosedale Doodles

Rosedale, Gill Lane, Preston, Lancashire, PR4 4SR
01772 619412
Springbank Koi & Pond Services

Pathways, Blackpool Road, Preston, Lancashire, PR4 3RJ
01772 681883
The Lizard House Rescue Centre

9 West Park Avenue, Preston, Lancashire, PR2 1UH
01772 977357