Morecambe Pet Professionals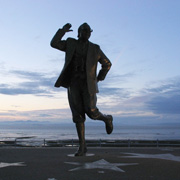 Situated on Lancashire's West coast, Morecambe is a medium sized town with a thriving shopping centre. Part of the interesting mix of shopping is a good selection of pet businesses that cater for all of pets' needs.
Morecambe's pet shops can sell animal lovers almost any pet they want ranging from dogs, cats, hamsters, rabbits, fish and reptiles. Blanco's Pet shop and Pegasus Pets are good examples of all round pet shops that also sell a selection of pet food and accessories.
If fish or reptiles are more your thing, then a visit to River and Reef Aquarium will not disappoint. Little Fluff is an online-only pet shop based in the area, whilst Ferncliffe Schnauzers is one of the UK's top breeders of this beautiful dog that originates from Germany. The Veterinary Surgery in Highfield Crescent is one of Morecambe's best vets for treating small animals with ailments or injuries.
POPULAR BUSINESSES
Whitegate, Whitelund Industrial Estate, Morecambe, Lancashire, LA3 3BS
01524 842642
18 Queen Street , Morecambe, LA4 5EG
OTHER BUSINESSES
Blanco's Pet Shop

64 Queen Street, Morecambe, Lancashire, LA4 5EP
01524 416690
Ferncliffe Schnauzers

248 Oxcliffe Road, Morecambe, Lancashire, LA3 3EH
01524 411220
Pampered Pets

20 Glentworth Road West, Morecambe, Lancashire, LA4 4SZ
01524 419515
Pegasus Pets

22 Regent Street, Morecambe, Lancashire, LA3 1QN
01524 410304
Reef & River Aquarium

95 Lancaster Road, Morecambe, Lancashire, LA4 5QH
01524 419371
Veterinary Surgery

1A Highfield Crescent, Morecambe, Lancashire, LA4 4DH
01524 424717
Wagtails

73 Yorkshire Street, Morecambe, Lancashire, LA3 1QF
01524 418708