Bolton Pet Businesses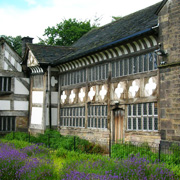 Located only ten miles from Manchester city centre, Bolton is a very large town in its own right. The local population includes a high percentage of pet owners that are well served by all of Boltonís pet businesses. Daveís Aquarium in Folds Road is the perfect place to purchase many different breeds of tropical and freshwater fish, as well as all the accessories such as tanks, lights and heaters.
Many cat owners use Cats Whiskers cattery at Temple Farm. They offer a reliable and caring service for short or long breaks. The Destitute Animal Shelter is a welfare society in Northolt Drive that makes every effort to reunite lost animals with their owners. If you own a snake or lizard, try Kearsley Tropicals in Manchester Road for regular suppliers of food and accessories.
POPULAR BUSINESSES
16 Martin Street, Turton , Bolton, Greater Manchester, BL7 0DT
01204 852822
OTHER BUSINESSES
All About Petz

174 Tonge Moor Road, Bolton, Greater Manchester, BL2 2HN
01204 370849
Allbreeds Pet Shop

444 Tonge Moor Road, Bolton, Greater Manchester, BL2 2UJ
01204 307170
Cats Whiskers

Temple Farm, Bury Road, Bolton, Greater Manchester, BL7 0BT
01204 325949
Courts Pet Shop

671 Chorley Old Road, Bolton, Greater Manchester, BL1 6BJ
01204 846549
Dave's Aquarium

225 Folds Road, Bolton, Greater Manchester, BL1 2TW
01204 534343
Destitute Animal Shelter

1 Northolt Drive, Bolton, Greater Manchester, BLK3 6NJ
01204 526486
Kearsley Tropicals

215 Manchester Road, Bolton, Greater Manchester, BL4 8QL
01204 708713