Folkestone Pet Professionals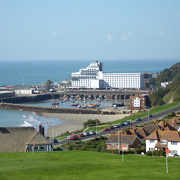 Located in an enviable position on Englandís south coast, Folkestone in Kent is home to many pet businesses that offer a wide variety of services to the areas pet lovers. These range from children who own a guinea pig, rabbit or hamster, to family pets like dogs, cats or even ponies and horses.
Folkestone vets like Anna House Veterinary Clinic play a big part in the welfare of this huge diversity of animals. If your favourite pooch needs grooming, a visit to Perfect Paws in Marine Crescent can be highly recommended.
Maybe you need a new dog collar or lead? Try Best Buddies Pet Supplies in Horn Street for a great selection. Dover and Folkstone Kennels and Catteries in Crete Road West successfully operates a complete cat and dog care service for pet owners going on holiday. They should also try Pet Care Services in Surrenden Road for a range of short and long stay options.
POPULAR BUSINESSES
1 Marina View, Marine Crescent, Folkestone, Kent, CT20 1PS
01303 210715
OTHER BUSINESSES
Anna House Veterinary Clinic

3 Sandgate Hill, Folkestone, Kent, CT20 2JF
01303 488329
Best Buddies Pet Supplies

248 Horn Street, Folkestone, Kent, CT19 4JR
01303 779380
Dover & Folkestone Kennels and Catteries

Crete Road West, Folkestone, Kent, CT18 7AB
01303 892250
Kissiboo Togs for Dogs

53 The Old High Street, Folkestone, Kent, CT20 1RN
01303 226033
Pet Care Services

13 Surrenden Road, Folkestone, Kent, CT19 4DY
07950 522193
Purrfect Pets

3 Majestic Parade, Sandgate Road, Folkestone, Kent, CT20 2BZ
01303 244933