St Albans Pet Professionals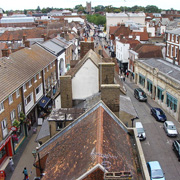 St. Albans in Hertfordshire is near enough to London to be a popular dormitory town for the big city. Pet related businesses in St. Albans are diverse, and cater for all pets and pet owners' needs. GJW Titmuss is a long established St. Alban's pet shop that supplies a huge range of pet foods for many different animals, as well as offering a selection of country clothing. Halian Veterinary Centre is a St. Albans vet that looks after almost any type of small animal illness.
Feline Friend Sitters in Dellafield or Greenfields Boarding Cattery in Green Lane will care for your favourite cat whilst you are away and ensure that it remains in peak condition. If you need some pampering for your dog than Canine Creations or Clippin Marvellous both have a range of treatments available.
Abbey Aquatics in Park Street offers St. Albans customers a great selection of fish as well as aquariums and fish food. Online pet retailer Viovet are also based in St.Albans, from where they dispatch over 25,000 different pet products to customers all over the UK.
POPULAR BUSINESSES
New Mill, Lamer Lane, Wheathampstead, St.Albans, Hertfordshire, AL4 8RG
01582 839114
Contact Online, St Albans, Hertfordshire, AL1 5LX
07554 671707
OTHER BUSINESSES
Abbey Aquatics

1 Upton Close, Park Street, St.Albans, Hertfordshire, AL2 2NR
07784 973518
Canine Creations

22 High Oaks, St. Albans, Hertfordshire, AL3 6DL
01727 830730
Clippin Marvellous

67 High Street, Redbourn, St. Albans, Hertfordshire, AL3 7LW
01582 793657
Feline Friend Sitters

69 Dellafield, St. Albans, Hertfordshire, AL1 5HA
077 08 965654
Greenfields Boarding Cattery

Green Lane, Markyate, St. Albans, Hertfordshire, AL3 8LR
01582 840219
Halian Veterinary Centre

107 Radlett Road, Frogmore, St. Albans, Hertfordshire, AL2 2LA
01727 874700
Pet Visitors

31 Wilsone Drive, St. Albans, Hertfordshire, AL4 9TT
01727 868311