Hemel Hempstead Pet Professionals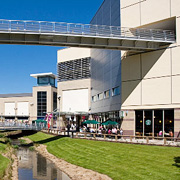 Hemel Hempstead in Hertfordshire has an eclectic mix of new and old shops, with Marlowes shopping centre housing most of the usual chain stores. Hemel Hempstead's pet shops are located all over the town, and with quite a large population it's no surprise that there are plenty of pet owners with animals that need care and attention.
Kennels and catteries like the Cat Pack Cattery look after animals whilst their owners are on holiday, whilst Ameyzoo Exotic Pets can supply everything required to keep your lizard, snake or tortoise in tip top condition.
Kennelgate Pet Food Superstores in Frogmore Road have a fantastic choice of all the top brand pet food. All of it is available in handy 'carry home' sizes or in bulk for even bigger savings. Busy people will appreciate the services offered by Mind Your Pets in Masons Road. Their packages include dog walking and pet sitting. Best Price Pet Supplies in Hobbs Hill Road is the perfect outlet for excellent value pet food and a wide range of accessories.
OTHER BUSINESSES
Ameyzoo Exotic Pets

12 High Street, Hemel Hempstead, Hertfordshire, HP3 0HG
01442 834446
Animaltastic

30 The Queens Square, Hemel Hempstead, Hertfordshire, HP2 4ER
01442 264086
Best Price Pet Supplies

89 Hobbs Hill Road, Hemel Hempstead, Hertfordshire, HP3 9QF
07530 027311
Hylaird

52 Broadfield Road, Hemel Hempstead, Hertfordshire, HP2 4DW
07711 704713
Kennelgate Pet Food Superstores

8 Frogmore Road, Hemel Hempstead, Hertfordshire, HP3 9RW
01442 232364
Mind Your Pets

47 Masons Road, Hemel Hempstead, Hertfordshire, HP2 4QS
07581 292991
Pet Relief

Little Mead, Roughdown Villas Road, Hemel Hempstead, Hertfordshire, HP3 0AX
01442 240240