Gosport Pet Professionals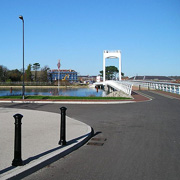 Like most parts of the UK, Gosport in Hampshire has a huge number of pet owners that all rely on the services offered by various Gosport pet shops, vets, breeders or pet boarding places. A good example is Cuddles Boarding Cattery in Diana Close where owners can be assured that their pet cat will be well looked after in their absence. The Natural Pet Pantry in Dartmouth Court only sells additive free food as well as selection of natural remedies for various pet health issues.
The Alver Veterinary Group is just one of many Gosport vets that look after a wide selection of pet animals, birds and fish. Some of these vets can also look after exotic species like lizards and snakes. Dog grooming is a popular service offered by Hair NíHounds in Grange Crescent. Take in a dog for a wash and brush up, and collect a beautifully groomed pooch that will look and smell gorgeous. If you need a good selection of pet food, try PetFood2you in the Sanderson Centre - they sell many different brands of popular dog, cat and other pet food.
POPULAR BUSINESSES
Newbroke Road, Gosport, Hampshire, PO13 9UJ
07936 863604
3 Dartmouth Court , Gosport, Hampshire, PO12 4BQ
023 921 77271
OTHER BUSINESSES
Alver Veterinary Group

148 Forton Road, Gosport, Hampshire, PO11 3HG
023 9258 2991
Charlie's Pet Pals

40 Marlborough Road, Gosport, Hampshire, PO12 3ES
023 9235 1060
Cuddles Boarding Cattery

14 Diana Close, Gosport, Hampshire, PO12 2RJ
023 9250 4417
Hair N'Hounds

33 Grange Crescent, Gosport, Hampshire, PO12 3DS
023 9258 5548
Moggies & Doggies

125 Stoke Road, Gosport, Hampshire, PO12 1LR
023 9252 0622
PetFood2you

Unit A59, The Sanderson Centre, Lees Lane, Gosport, Hampshire, PO12 3UL
023 9258 1110
The Natural Pet Pantry

Unit 3, Dartmouth Court, Gosports, Hampshire, PO12 4BQ
023 9217 7271
Vets4Pets

27 Rowner Road, Gosport, Hampshire, PO13 9EU
02392 004022