Farnborough Pet Shops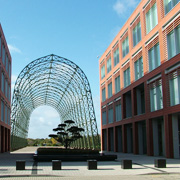 Located in the North Eastern corner of Hampshire, Farnborough has long been associated with the aeronautical industries. The Princes Mead and The Meads are two large and modern shopping centres that house most of the multiple groupís shops. Outside of these areas several pet businesses support the towns many different pets. The Farnborough Veterinary Centre in Farnborough Street is just one of many vets that help to keep dogs, cats, rabbits and hamsters in tip top health.
The aptly named Millionhairs Dog Grooming Services in Nightingale Close guarantees to give your favourite pooch a fantastic wash and brush treatment that keeps them looking in perfect condition. Working folk often use Walkies Pet Services to exercise their animals whilst they are out at work, whilst Pets Castle in Croyde Close will board your pets during holiday periods. All the Farnborough pet businesses listed here offer professional and reasonably priced services.
OTHER BUSINESSES
Farnborough Veterinary Centre

19 Farnborough Street, Farnborough, Hampshire, GU14 8AG
0871 9719455
Millionhairs Dog Grooming Services

22 Nightingale Close, Farnborough, Hampshire, GU14 9QH
01252 674093
PamPurredPets

Briarcliff House, Kingsmead, Farnborough, Hampshire, GU14 7TE
01253 377915
Pets Castle

8 Croyde Close, Farnborough, Hampshire, GU14 8UE
01252 416832
Pets Quest

75 Lynchford Road, Farnborough, Hampshire, GU14 6EJ
01252 545497
Walkies Pet Services

35 Chingford Avenue, Farnborough, Hampshire, GU14 8AD
07966 970490