Brighton & Hove Pet Shops and Services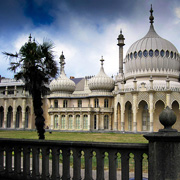 As the UKís largest coastal conurbation, itís not surprising that Brighton & Hove has more than its fair share of pet related businesses. Whilst not everyone likes to keep an animal, doggies and moggies are the locals favourite pets, with rabbits, hamsters and guinea pigs not far behind.
Pets At Cobbs Corner in the Portslade area is one of the best pet shops in the towns. Their old fashioned service and fantastic stock of live animals, pet food and accessories makes them a real favourite with pet lovers from a wide area.
Needless to say, there are plenty of Brighton & Hove-based pet shops and breeders who can supply almost any animal, bird, reptile or fish that a person could want to keep. Lots of vets cover the region including Beech House Vet Clinic in Harrington Road. Pet owners can also find a selection of grooming parlours, dog walkers, kennels and catteries.
Whatever animal you own, thereís likely to be a pet society in Brighton or in Hove that can put you in touch with like minded individuals, or a pet photographer who can capture the mood of your favourite animal.
POPULAR BUSINESSES
92 Graham Avenue, Portslade, Brighton & Hove, East Sussex, BN41 2WL
01273 439299
Coastway Vets, Kemptown, Brighton,
07711 653476
OTHER BUSINESSES
A Coombs Pet Centre

19-21 Baker Street, Brighton & Hove, East Sussex, BN1 4JN
01273 606868
Beech House Vet Clinic

35 Harrington Road, Brighton & Hove, East Sussex, BN1 6RF
01273 457648
Moggie Minders Sussex

36a Grange Road, Brighton & Hove, East Sussex, BN3 5HU
01273 889096
Pet Pet Pet

5 West Way, Brighton & Hove, West Sussex, BN3 8LD
01273 884949
South Coast Dog Walkers

79 Station Road, Brighton & Hove, East Sussex, 01273 415747
Sussex Pet Stores

29 Ladies Mile Road, Brighton & Hove, East Sussex, BN1 8QE
01273 557778
The Pet Shop

24 Whitehawk Road, Brighton & Hove, East Sussex, BN2 5FB
01273 622102