Bexhill Pet Shops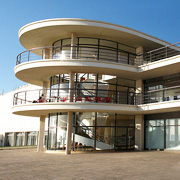 Bexhill, or sometimes known as Bexhill-on-Sea, is located on the English Channel coast in East Sussex. With many historical monuments, the town is a tourist hot-spot in the busy summer months.
Bexhill's town centre has a good mix of multiple and independent retailers, and the areas pets are well catered for with a respectable collection of pet businesses. Greenleaves Veterinary Centre in Little Common Road is just one of many vets that are well equipped to handle almost any pet illness or injury.
The owners of Buckholt Cattery in Buckholt Lane are well used to reducing the stress felt by animals in their care during family holidays. If shorter term care is required, Happy Tails Pet Sitting services are the perfect option. Most dogs and cats benefit from a trip to the groomers, and Bexhill is fortunate to have several including Jo's Dog Grooming and Top To Tail Groomers. If you're looking for pet food and general pet accessories, a trip to The Wobbly Rabbit in Western Road offers a selection of most products.
POPULAR BUSINESSES
19 School Place, Bexhill, East Sussex, TN40 2PX
01424 219655
OTHER BUSINESSES
Buckholt Cattery

Buckholt Lane, Bexhill, East Sussex, TN39 5AU
01424 830681
Greenleaves Veterinary Centre

119 Little Common Road, Bexhill, East Sussex, TN39 4JB
01424 212225
Happy Tails Pet Sitting

20 Barnhorn Road, Bexhill, East Sussex, TN39 4QA
01424 250085
Jo's Dog Grooming

83 Barnhorn Road, Bexhill, East Sussex, TN39 4QU
01424 232112
The Wobbly Rabbit

23 Western Road, Bexhill, East Susse, TN40 1DU
01424 218285
Top To Tail Groomers

20 Glenthorn Road, Bexhill, East Sussex, TN39 3QH
07842 576080