Dumfries and Galloway Pet Shops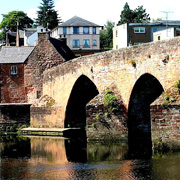 Located on the west coast, Dumfries and Galloway is the third largest of all Scotlandís regions. The population live in or around a number of large towns that all cater well for the thousands of the regions pet lovers. Paws 4 Claws is the best known pet shop in Castle Douglas with a great selection of pet food and a special section selling coldwater and tropical fish. Ark Veterinary Centre in Lockerbie is just one of the Dumfries and Galloway vets that help to look after many different household pets.
Ultimate Reptiles in Dumfries is the regions premier exotic species pet shop. Not only do they sell many different reptiles, they also offer live food and a selection of tanks and cages. Pets Port and Reptiles can be found in Dalbeattie, whilst Paws to Hooves and The Pet Shop are both located in Stranraer. For a huge choice of pet food, the Pets Larder in Thornhill is hard to beat.
POPULAR BUSINESSES
172 King Street, Castle Douglas, Dumfries and Galloway, DG7 1DA
01556 502013
OTHER BUSINESSES
Ark Veterinary Centre

Glasgow Road, Lockerbie, Dumfries and Galloway, DG11 2AT
01576 202552
Happy Pets

94 Queensberry Street, Dumfries, Dumfries and Galloway, DG1 1BG
01387 247779
Paws to Hooves

14a Bridge Street, Stranraer, Dumfries and Galloway, DG9 7HY
01776 258038
Pets Larder

102 Drumlanrig Street, Thornhill, Dumfries and Galloway, DG3 5LU
01848 331266
Pets Paradise

68 Friars Vennel, Dumfries, Dumfries and Galloway, DG1 2RL
01387 257859
Pets Port and Reptiles

27 High Street, Dalbeattie, Dumfries and Galloway, DG5 4AD
01556 611886
The Pet Shop

23 St. John Street, Stranraer, Dumfries and Galloway, DG9 7EW
01776 703541
Ultimate Reptiles

2 Irving Street, Dumfries, Dumfries and Galloway, DG1 1EL
01387 242942