Devon Pet Professionals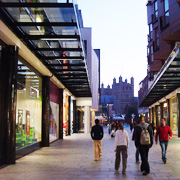 Narrow your results: browse for in Devon towns:
Plymouth.
Devon is one of the largest counties in England, with prominent towns such as Exeter, Plymouth and Torquay in the south and Barnstaple in the north of the region. Pet lovers have an amazing choice of Devon pet shops and other pet related businesses right on their doorsteps. Alpine Pet Shop, K2 Pets and Petsavers are just a small selection of Plymouth pet professionals, whilst capital city Exeter has The Animal Kingdom and Exeter Exotics for those wanting to own pet spiders, lizards, snakes or terrapins.
Good pet care is vitally important for keeping animals healthy and fit and a substantial number of Devon veterinary practices look after animals of all sizes – from the smallest mice to the largest horses. Dog and cat owners may like to try out the services of Well Groomed in Plymouth who can ensure that your favourite pet always looks at its best. Online only supplier PS Pet Tags is based in Okehampton and supply their personalised pet tags to customers all over the UK.
FEATURED BUSINESSES

Manufactures a large range of pet identification tags which are sold with a lifetime guarantee.
Read more about PS Pet Tags >>
POPULAR BUSINESSES
PetTastic, The Stable, Bratton Fleming, Barnstaple, EX31 4TN
0845 0217387
Essington House, Essington, North Tawton, Devon, EX20 2EX
01837 880275
21 King Street, Honiton, Devon, EX14 1AD
01404 549366
1 Kirby Close, Axminster, Devon, EX13 5JA
01297 32518
The Maldens, Marley Road, Exmouth, EX8 5DE
01395 741416
3 Fore Street, Uffculme, EX15 3AN
01884799412
21 Lime Tree Mead, Tiverton, EX16 4PX
0843 289 4704
Nags Head Cottage, Nags Head Road, Honiton, Devon, EX14 3AW
07805 064330
Units 63/64, Christian Mill Business Park, Crownhill, Plymouth, Devon, PL6 5DS
01752 777247
3 Rosedale Terrace, Colyford Road, Seaton, Devon, EX12 2SP
0118 437 7690
1 The Square, Old Exeter Street, Chudleigh, Devon, TQ13 0LD
01626 439273
OTHER BUSINESSES
Alpine Pet Shop

135 Cornwall Street, Plymouth, Devon, PL1 1PA
01752 665227
Exeter Exotics

Market Street, Exeter, Devon, EX1 1BP
01392 213480
K2 Pets

54 Higher Compton Road, Plymouth, Devon, PL3 5JE
01752 771417
Little Pet Supplies

20 Marlborough Street, Plymouth, Devon, PL1 4AH
01752 561327
Pet Food Supplies

133 Exeter Road, Exmouth, Devon, EX8 1QF
01395 272189
Pets, Eats and Treats

Unit 1-2 Greenhill Way, Newton Abbot, DEvon, TQ12 3SH
01626 362168
Petsavers

59 Ridgeway, Plymouth, Devon, PL7 2AW
01752 342979
Plymouth Pet Care

17 Coleridge Road, Plymouth, Devon, PL4 7PA
01752 294361
Purrfect Pets

17 Allhalland Street, Bideford , Devon, EX39 2JD
01237 473575
Teacher's Pets

36 Valletort Road, Plymouth, Devon, PL1 5PN
01752 563212
The Animal Kingdom

39-43 Pinn Hill, Exeter, Devon, EX1 3TH
01392 464660
The Triangle Pet Shop

Little Triangle, Teignmouth, Devon, TQ14 8AX
01626 776845
The Veterinary Centre

42 Lipson Road, Plymouth, Devon, PL4 8PW
01752 664866
Two by Two

125 Embankment Road, Plymouth, Devon, PL4 9JD
01752 668343
Well Groomed

2-4 Frontfield Crescent, Plymouth, Devon, PL6 6RY
01752 774866