Conwy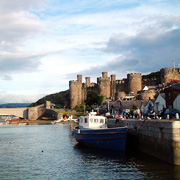 Situated on the north coast of Wales, Conwy county contains several important towns like Llandudno, Colwyn Bay, Abergele and Betws-y-Coed. These high population areas have a large selection of pet business that service a huge selection of domestic pets.
Woofs 'n' Whiskers in Llandudno is one of the regions pet beauty parlours that can undertake a wide choice of treatments from a full shampoo and clean to basic nail clipping. Tropical and freshwater fish lovers head straight for Erskine Aquatics in Colwyn Bay on Abergele Road. They sell live fish as well as fish food and accessories.
In the same street is Canine Beauty Parlour that can undertake many different doggie beauty treatments. A general selection of pet food and other supplies can be found at Junction Pet Supplies in Llandudno Junction.
POPULAR BUSINESSES
1 Victoria Buildings, Mostyn Avenue, Craig Y Don, Llandudno, Clwyd, LL30 1YU
07958 716811
OTHER BUSINESSES
Canine Beauty Parlour

115 Abergele Road, Colwyn Bay, Conwy, LL29 7SG
01492 535535
Conwy Water Gardens & Reptile House

Glyn Isaf, Conwy, LL32 8TP
01492 650063
Erskine Aquatics

113 Abergele Road, Colwyn Bay, Conwy, LL29 7SG
01492 533279
Farm & Pet Place

11 Mostyn Street, Llandudno, Conwy, LL30 2NL
01492 875360
Junction Pet Supplies

170 Conway Road, Llandudno Junction, Conwy, LL31 9DU
01492 582082
The Pet Shop

26 Back Madoc Street, Llandudno, Conwy,
01492 874433