Ceredigion Pet Shops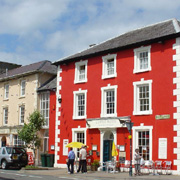 Located on the west coast of Wales, Ceredigion was so-named in 1996 when it replaced the historic county of Cardiganshire. Several large towns are scattered throughout the county with Aberystwyth being the largest. In line with the rest of the UK there are plenty of pet lovers in the area, all of whom need a variety of pet services. Holiday time means that businesses like Jolly Hill Cattery in Llandysul are kept very busy with a succession of owners dropping off their cats for varying periods.
Vets are kept busy too, with Steffan Veterinary Services in Lampeter and Priory Vets in Aberaeron being just two of Ceredigionís many practices that specialise in small animals. Pet shops normally keep a good selection of pet beds, cages, food and accessories for almost any need. Some of these include Cardigan Pet Centre in Cardigan, Karenís Pets & Plants in Llandysul plus Aber Pet Shop in Aberystwyth. Llandysul is also the base for Animal Rescue Cymru. They look after many distressed dogs and cats until they can be safely re-homed.
POPULAR BUSINESSES
Ffynon Gynnen, Cross Inn Cardigan Bay, New Quay, Llandysul, Ceredigion, SA44 6NH
01545 560641
OTHER BUSINESSES
Aber Pet Shop

Crown Stores, Aberystwyth, Ceredigion, SY23 1BE
01970 617169
Animal Rescue Cymru

Gilfach Aur, Llandysul, Ceredigion, SA44 4JE
0845 4755958
Cardigan Pet Centre

33 Pendre, Cardigan, Ceredigion, SA43 1JS
01239 613693
Jolly Hill Cattery

Penlon Newydd, Llandysul, Ceredigion, SA44 6QD
01239 654820
Keren's Pets & Plants

16 Lincoln Street, Llandysul, Ceredigion, SA44 4BU
01559 363489
Meurig Kennels

Cilcennin, Lampeter, Ceredigion, SA48 8RS
01570 470572
Paws & Ponies

Synod Ganol, Llandysul, Ceredigion, SA44 6JE
01545 580790
Priory Vets

5 Dark Gate Street, Aberaeron, Ceredigion, SA46 0JH
01545 571341
Steffan Veterinary Services

5 High Street, Lampeter, Ceredigion, SA48 7BA
01570 422322
The Pet Shop

44a High Street, Lampeter, Ceredigion, SA48 7BB
01570 423222