Cambridgeshire Pet Professionals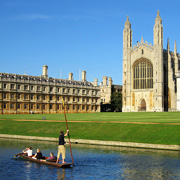 Narrow your results: browse for in Cambridgeshire towns:
Cambridge.
Best known for its world famous University, the county of Cambridgeshire has many well-known towns like Peterborough, March, Wisbech and Ely. As in the rest of the UK, high proportions of the residents are animal lovers, and own a massive variety of different pets. Naturally a growing number of pet businesses have sprung up to cater for the demands of the county's dogs, cats, rabbits, guinea pigs, aviary birds, tropical fish or reptiles.
Alvenor Aquatics in Wisbech is a specialist centre for anyone wanting plants, fish or accessories for their garden pond. If owning reptiles is more your thing, Cambridge Reptiles or Reptile Mania in Peterborough are two good places to start. They both sell many different species as well as all the equipment and food needed to keep them in top condition.
Cambridgeshire vets can be found in every major town, and Ouse Valley Vets in St. Neots is a great example of a well-run veterinary practise that caters for all small animals. General pet shops such as Pets Pantry in Chatterish or The Pet Shop in March offer a terrific selection of pet food, toys and pet accessories to suit almost every small animal.
FEATURED BUSINESSES

Specialises in bright colours and collars with that little bit of extra bling and decoration.
Read more about Woofstar >>
POPULAR BUSINESSES
Unit 2 Station Yard, Station Road , Fulbourn, Cambridge, Cambridgeshire, CB21 5ET
0845 868 5817
10 Olivia Road, Brampton, Huntingdon, Cambridgeshire, PE28 4RP
07581 880256
25 Northfield Crossroads, A142 Soham Bypass, Soham, Ely, Cambridgeshire, CB7 5UF
01353 720431
OTHER BUSINESSES
Abington Boarding Kennels

Haydn, Bourne Bridge, Cambridge, Cambridgeshire, CB21 6AN
01223 832311
Alan's Ark

New Shardelowes Farm, Balsham Road, Cambridge, Cambridgeshire, CB1 5BA
01353 881638
Alan's Ark

New Shardelowes Farm, Balsham Road, Cambridge, Cambridgeshire, CB1 5DA
01353 881638
Avicentre Birds & Pet Gardens

Grenthorne Farm, Dry Drayton Road, Cambridge, Cambridgeshire, CB24 3BD
01223 232555
Cambridge Reptiles

175 St.Neots Road, Cambridge, Cambridgeshire, CB23 7QJ
01954 212187
Cambridge Reptiles & Exotics

175 St.Neots Road, Cambridge, Cambridgeshire, CB23 7QJ
01223 659206
Camelot Creature Comforts

Lynn Road, Ely, Cambridgeshire, CB6 1RY
01353 662865
Gladwells Pet & Country Store

12 Brassey Close, Peterborough, Cambridgeshire, PE1 2AZ
01733 301263
Just For Pets

253 Barnwell Road, Cambridge, Cambridgeshire, CB5 8SL
01223 568162
Maple Cottage Village Vet

26 Cambridge Road, Cambridge, Cambridgeshire, CB24 6AW
01223 426660
Ouse Valley Vets

86a Cambridge Street, St.Neots, Cambridgeshire, PE19 1PJ
01480 210310
Penelope Mobile Dog Grooming Services

24 Newton Road, Cambridge, Cambridgeshire, CB22 4PF
07722 530250
Pet-Paks Superstore

175 St. Neots Road, Cambridge, Cambridgeshire, CB23 7QJ
01954 776619
Pets Pantry

8 High Street, Chatterish, Cambridgeshire, PE16 6BE
01354 695145
Petzone

3 Station Road, St.Ives, Cambridgeshire, PE27 5BH
01480 462807
Reptile Mania

6 Market Street, Peterborough, Cambridgeshire, PE7 1BD
01733 205375
The Pet Shop

14 Station Road, March, Cambridgeshire, PE15 8LB
01354 653745
Wisbech Pet Care & Aquatics

6 North Street, Wisbech, Cambridgeshire, PE13 1NP
01945 661257