High Wycombe Pet Shops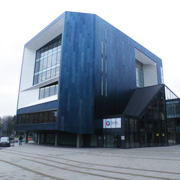 High Wycombe is the second largest town in Buckinghamshire, and has a thriving town centre. Whilst the popular Eden Shopping Centre is home to most of the UK's major national chain stores, there are plenty of independent pet businesses located in the surrounding areas.
Happy Days Dogs is well known in the region for providing an excellent dog walking and pet care service for busy households. Meanwhile, Ameyzoo Exotic Pets in the High Street sells an extraordinary selection of reptiles as well as heating, housing accessories and specialist food.
If your dog's hair needs a quick trim, Canine Cutz are experts at creating just the right style. Holiday time means your favourite moggie or pooch needs somewhere to stay, so Greendale Farm Kennels & Cattery in Bigmore Lane offers the best service for both types of pets.
POPULAR BUSINESSES
London Road, High Wycombe, Buckinghamshire, HP11 1BT
07403 918181
OTHER BUSINESSES
Ameyzoo Exotic Pets

12 High Street, High Wycombe, Buckinghamshire, HP3 0HG
04112 504232
Canine Cutz

High Street, High Wycombe, Buckinghamshire, HP13 5XJ
01494 443349
Greendale Farm Kennels & Cattery

Bigmore Lane, High Wycombe, Buckinghamshire, HP14 3UP
01494 881521
Posh Paws Dog Grooming

Snoanda, North Road, High Wycombe, Buckinghamshire, HP15 6NE
01494 713851
Temple End Veterinary Surgery

43 Temple End, High Wycombe, Buckinghamshire, HP13 5DN
01494 416638
The Kennel Shop

Oxford Road, High Wycombe, Buckinghamshire, HP14 3YH
01844 354023