Aberdeenshire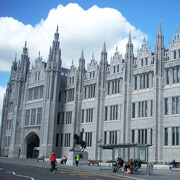 Narrow your results: browse for in Aberdeenshire towns:
Aberdeen.
Situated on Scotland's north-east coast, Aberdeenshire's numerous towns and villages include Peterhead, Fraserburgh and Stonehaven. Every location has a great selection of pet businesses ranging from general pet shops, grooming parlours, kennels, catteries and pet rescue centres to breeders and pet artists. This latter category is well represented by Picky Pencil in Stuartfield. They can create photo-realistic images of your favourite pets from existing photos or drawings.
Inverurie Pet Supplies has a huge range of general pet requirements including food from all the best suppliers for cats and dogs, as well as specialist live and frozen food for reptiles. If you need a professional pet groomer for your dog then Deeside Horse & Hound is the perfect place to go. They also offer horse clipping and transport. Muddy Buddies in Aberdeen is one of the region's best and most reliable dog walking firms. They can also transport your pet to the vet or check up on pets at home whilst the owners are on holiday.
POPULAR BUSINESSES
Knock View, Stuartfield, Aberdeenshire, AB42 5TQ
07779 647354
OTHER BUSINESSES
Ballintober Kennels

Tillykerrie, Alford, Aberdeenshire, AB33 8EB
01975 562930
Deeside Horse & Hound

5 Morven Place, Aboyne, Aberdeenshire, AB34 5EZ
01339 225000
Inverurie Pet Supplies

Unit 9, 14 Keith Hall Road, Inverurie, Aberdeenshire, AB51 3UA
01467 622288
Longley's Country Store

Deer Road West, Peterhead, Aberdeenshire, AB42 4NG
01771 619035
Muddy Buddies

78 Pittodrie Place, Aberdeen, Aberdeenshire, AB24 5QT
07922 814039
Trophy Pet Foods

4 Westend Gardens, Inverurie, Aberdeenshire, AB51 0JG
01651 871802
While You're Away

Moreless Farm Cottage, Turriff, Aberdeenshire, AB53 5RS
07853 072086