West Dunbartonshire Pet Shops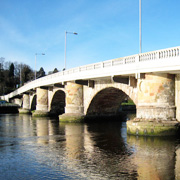 With Clydebank its largest town, West Dunbartonshire council is actually administered from Dumbarton. Both of these areas, plus Alexandria, Balloch, Jamestown and Renton make up a good proportion of the pet owning population. Vets are always an important part of any pet owning community, and A McKenzie & Partners as well as Boyce & Houston are just two examples of broad based vet practices in the region. They can both treat any animal from the smallest mouse to the largest dog.
Holiday periods create busy times for Ardoch Kennels in Clydebank and Glendale Kennels in Alexandria. They can look after your favourite pet for short weekend breaks or for longer periods as required. Ryan's Pet Centre in Dumbarton is a popular shop with a great selection of many different pet food brands. They also sell cages, leads, bowls, treats and almost any pet accessory customers could need.
POPULAR BUSINESSES
Clydebank Shopping Centre, 36 Sylvania Way South, Clydebank, West Dunbartonshire, G81 1EA
0141 9410414
OTHER BUSINESSES
A McKenzie & Partners

26 Gilmour Street, Alexandria, West Dunbartonshire, G83 0DA
01389 311043
Ardoch Kennels

15 West Cochno Holdings, Clydebank, West Dunbartonshire, G81 6RT
01389 876966
Boyce & Houston

14 Crown Avenue, Clydebank, West Dunbartonshire, G81 3BW
0141 952 4477
Clydeside Walkies

5 Charlotte Street, Dumbarton, West Dunbartonshire, G82 4JB
07768 208107
Glendale Kennels

Drumkinnon Farm, Lower Stoneymullan Road, Alexandria, West Dunbartonshire, G83 8QS
01389 752318
Ryan's Pet Centre

157 High Street, Dumbarton, West Dunbartonshire, G82 1NZ
01389 732552