Scruff MacDuff
No customer reviews yet. Be the first.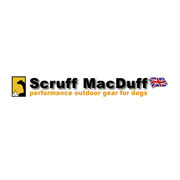 Scruff MacDuff Address
Herkimer House, Mill Road Industrial Estate, Linlithgow, West Lothian, EH49 7SF
Telephone
01506 848966
Website Address
www.scruffmacduff.co.uk
About
Scruff MacDuff
Best in West Lothian, Scotland, Scruff MacDuff is an online-only pet store specialising in outdoor dog products. Their ranges of items include high visibility dog collars and jackets (from Ruffwear and Westpaw) to help keep your dog safe and warm. They also sell Doggles and Ruffwear boots to keep your dog fashionable whilst also protecting them from the elements. A great selection of doggie playthings includes the Tuffy 'tiger proofed' toys.
For the more adventurous dog, Scruff MacDuff stocks backpacks, harnesses, life jackets, mobile beds and shock absorber leads. Their friends include a sponsored Parkour Dog from Ukraine (called TreT whom you can follow on their blog), Dogs Trust, Boxer Rescue Liverpool and the Veterans Charity.
This West Lothian pet shop also sells accessories to help with a dog's eye, ear and dental care, as well as products to help with dog training. With a friendly team of staff and a growing Scruff MacDuff community, customers can be assured that Scruff Macduff is doing its best to offer both the best quality and ethical products that it can.
Find Scruff MacDuff on these pages:

Location: West Lothian
Categories: Dogs